A promise ring is a beautiful expression of love and commitment. While promise rings can represent any promise, they're most often used to symbolize a promise of marriage. 
Because they tend to precede marriage, promise rings are usually understated compared to engagement rings. Any ring can be a promise ring, but subtle designs are more popular choices. Think small diamond rings, delicate diamond bands, silver rings, pearl rings, and fashion rings. Promise rings are often still made of precious metals like sterling silver and gold, but they tend to be delicate rather than bold.
If you're looking for the perfect promise ring for your love, we're here to help. Our jewelry experts have rounded up 10 of the best promise rings to win their heart. All 10 of these beautiful rings are delicate, stunning, and made of fine materials that will stand the test of time. 
Petite Pear Diamond Ring
This dainty pear diamond ring offers a gorgeous way to express your commitment. Whether worn on a finger or strung on a necklace, this promise ring is sure to stun. 
Heart Trio Diamond Ring
Featuring a trio of diamonds within a golden heart, this romantic ring is the perfect symbol of love. This piece of jewelry is a particularly sweet choice if you're planning on giving a promise ring as a Valentine's Day gift. 
Bezel Diamond Ring
With five glittering diamonds in sleek bezel settings, this promise ring has no shortage of style or sparkle. 
Baguette Diamond Cluster Ring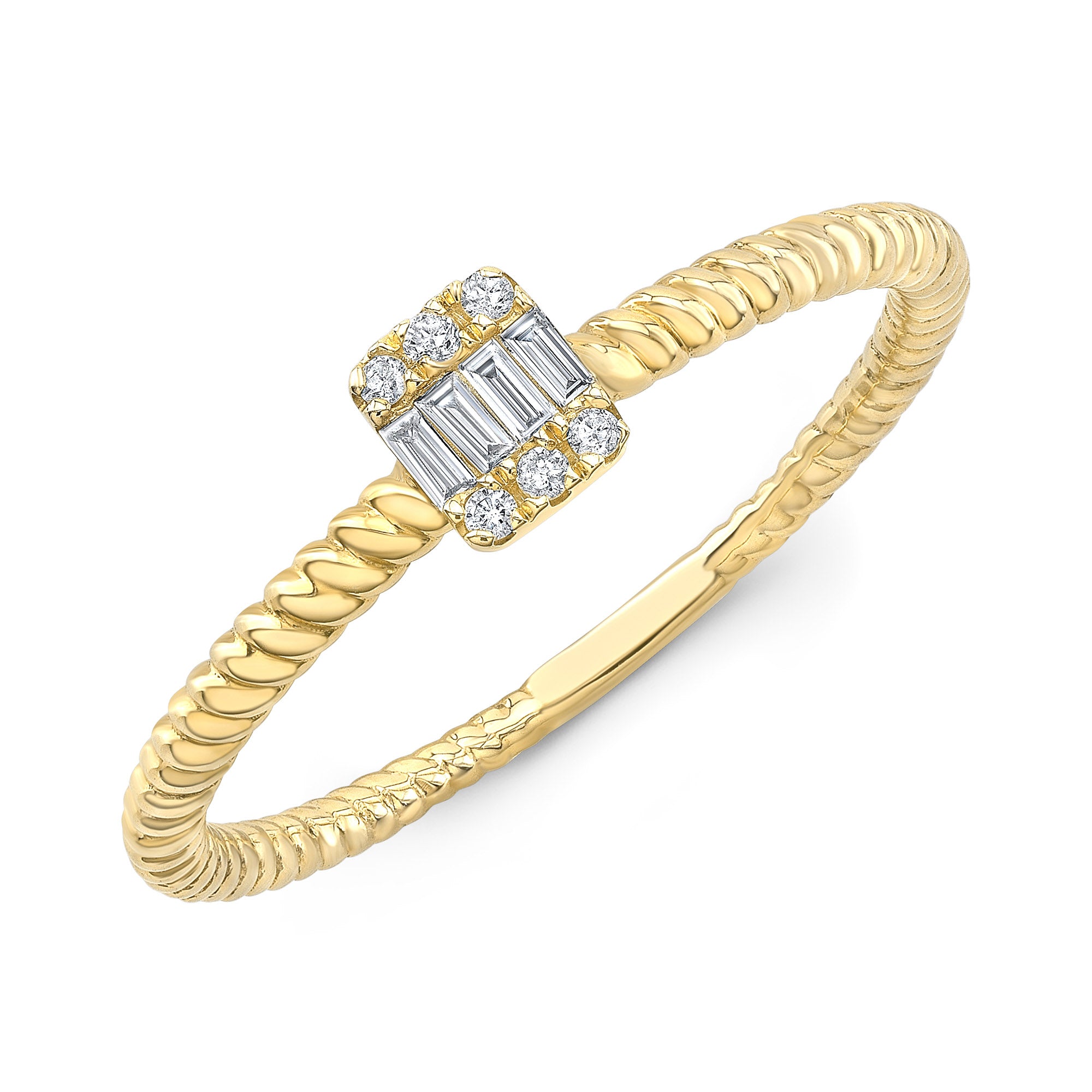 JustDesi Petite Baguette Cluster Braided Ring in Yellow Gold
Ten diamonds create a gorgeous centerpiece in this beautifully detailed design. To make this stunning gift feel even more special, give your love a matching set by picking up this promise ring's matching earrings and necklace. 
Alternating Diamond Band
This delicate band features alternating diamond shapes and a slim silhouette that's comfortable for everyday wear. 
Dainty Marquise Diamond Ring
A marquise center diamond adds a unique touch to this best selling diamond ring. This versatile piece will warm their heart and add a luxe touch to their jewelry box. 
Pearl Bypass Ring
This pearl ring's bypass design symbolizes two people coming together while also maintaining their individuality. The white pearls add another layer of meaning, acting as a symbol of innocence and new beginnings. 
Scattered Diamond Band
Featuring eight beautiful prong set diamonds, this ring has an elegant and minimalist design. 
Vintage Diamond Band
Does your love have an eye for vintage style? Consider this vintage-inspired jewelry piece adorned with milgrain and a rich golden yellow color. 
Delicate Modern Diamond Band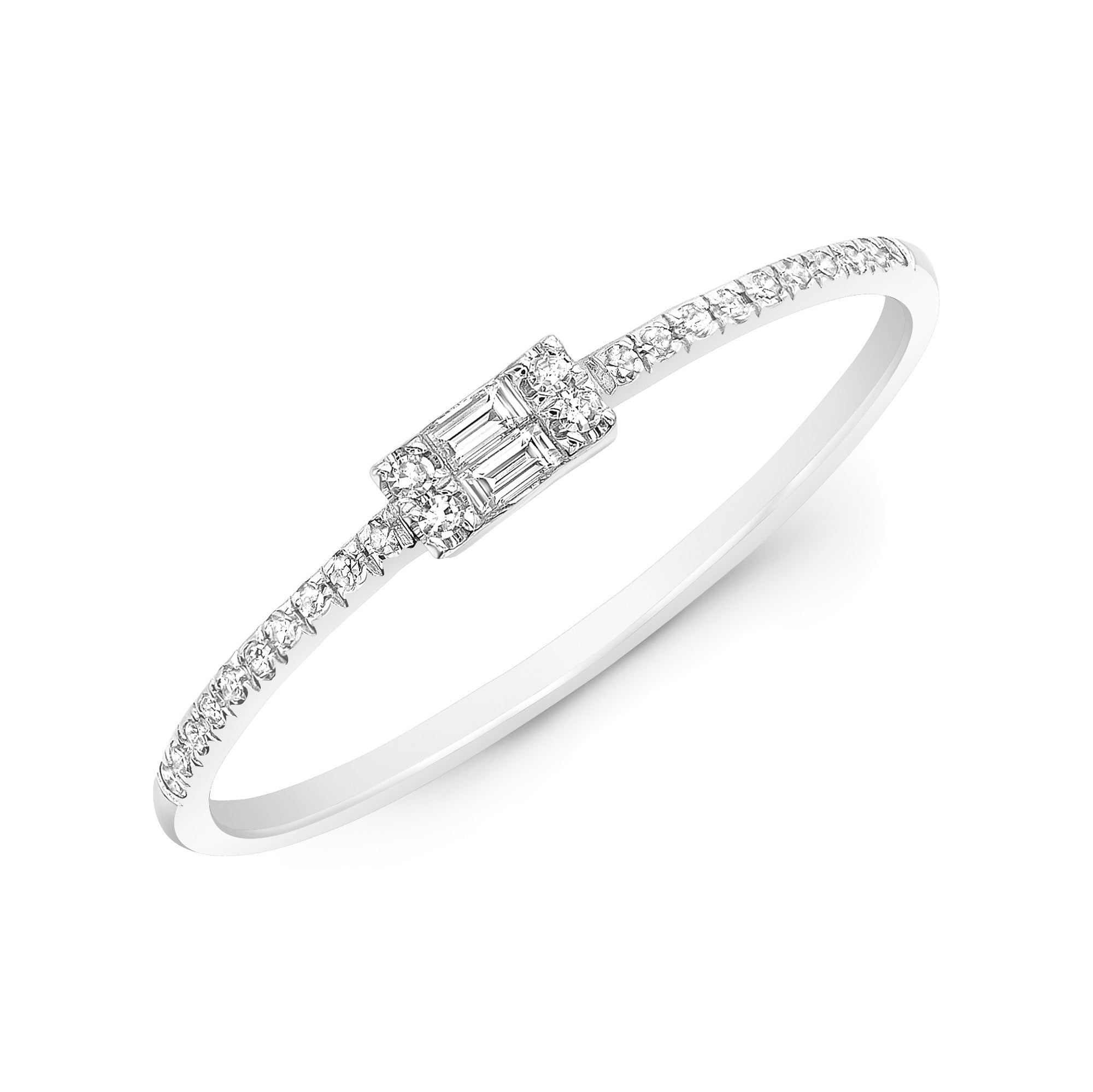 JustDesi Baguette Stackable Band in White Gold
Six diamonds dazzle at the heart of this delicate, modern style promise ring that offers plenty of glamour for an affordable price. 
Find Your Perfect Match at JustDesi 
Still searching for your perfect engagement ring? Browse more stunning pieces in our online store or visit our Beverly Hills showroom to shop in person.